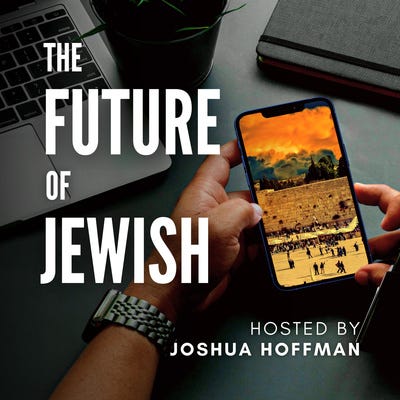 Mar 10, 2022 • 53M
Promoting Peer-Led Shabbat, With Aliza Kline​
Kline is the co-founder and CEO of OneTable.
Join host Joshua Hoffman, author of the book "The Future of Jewish," as he interviews guests about the future of Judaism, Jewish life, Jewish Peoplehood, and Israel.
---
Aliza Kline is the co-founder and CEO of OneTable which, since 2014, has grown to a national organization that engages tens of thousands Jewish young adults through peer-led Shabbat dinners.
From the onset of the Coronavirus pandemic, OneTable has expanded to serve the broader community — most recently by launching HereFor.com, a platform to enable individuals to find alternative High Holiday celebrations.
Also the founding executive director of Mayyim Hayyim, Kline has devoted her career to re-imagining Jewish ritual open to the full diversity of the community.
The Future of Jewish is a podcast hosted by Joshua Hoffman, the founder of JOOL. In each episode, Joshua is joined by top leaders, thinkers, and doers who are paving the path for a promising Jewish future.
Browse all episodes, and subscribe on Spotify, Apple Podcasts, or Google Podcasts.
---
JOOL is an audience-supported publication that ponders the future of Jewish. To receive new premium content, play weekly Jewish trivia games with cash prizes, and support our mission to make Judaism one of the world's bright spots, please consider signing up for a low monthly or yearly subscription!