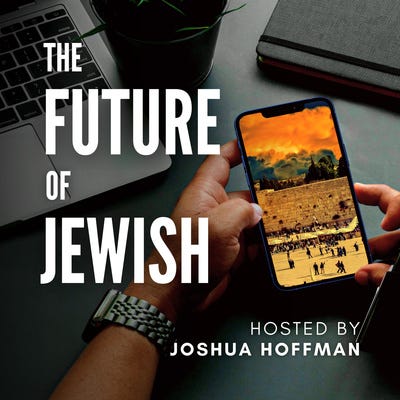 Apr 4, 2022 • 47M
Revitalizing the Next Gen of Jews, With Rabbi Dr. Benji Levy​
Levy is a founding partner of Israel Impact Partners.
Join host Joshua Hoffman, author of the book "The Future of Jewish," as he interviews guests about the future of Judaism, Jewish life, Jewish Peoplehood, and Israel.
---
Rabbi Dr. Benji Levy is a founding partner of Israel Impact Partners, which works with funders to accelerate the growth of the non-profits they care about.
Levy served as CEO of Mosaic United, a historic joint venture partnership between Israel and global Jewry to strengthen Jewish identity and connections to Israel for youth around the world. Previously, he served for six years as the Dean of Moriah College in Sydney, Australia, one of the largest Jewish schools in the world with over 1,800 pre-kindergarten through high school students and 300 staff.
Levy was named as one of three top global change-makers working for Diaspora Jewry by leading Israeli newspaper, Makor Rishon, and awarded "Educator of the Year" by JNF for his leadership and service to the Australian Jewish community. He received an Australian Postgraduate Award for his research in Jewish identity and published "An Oasis In Time: Seven Thoughts for the Seventh Day" with Maggid Books and Koren Publishing.
The Future of Jewish is a podcast hosted by Joshua Hoffman, the founder of JOOL. In each episode, Joshua is joined by top leaders, thinkers, and doers who are paving the path for a promising Jewish future.
Browse all episodes, and subscribe on Spotify, Apple Podcasts, or Google Podcasts.
---
JOOL is an audience-supported publication that ponders the future of Jewish. To receive new premium content, play weekly Jewish trivia games with cash prizes, and support our mission to make Judaism one of the world's bright spots, please consider signing up for a low monthly or yearly subscription!